Brand & Print Presence

Concept, Copy Editing/Writing, Research and Interviews, Design
Go Clean Go Green Kit
The creative presentation not only provided a quick overview of our client's list of environmentally friendly products and services, but also revolutionised how information can be best communicated at a glance and touch. The kit, together with a multimedia cd, was distributed and presented at the InterContinental Hotels Group (IHG) Conference.
Pacific Healthcare Collaterals
We were engaged to enhance the image and corporate identity of the integrated healthcare provider through a clean, consistent and professional look.
Attic Café Post Cards
Provided creative concept, copy and design for Attic Café series of themed events. The events are meant to draw people to attend talks in a casual and relaxed setting.
Welcome To Singapore Kit
First impressions of Singapore were packaged into a welcome kit with an interactive multimedica cd, painting images of its skyline and its people. This souvenir was presented to the international delegates from all over the world as Singapore hosted the International Co-operative Alliance (ICA) General Assembly.
Action Packed Holidays
The client was looking for a creative and enticing way to attract ACS students to engage in sporting activities during their school holidays. What resulted was a sporty, six-fold flyer that depicted the range of exciting programmes for the boys.
Community Outreach Publicity
Through a catchy title, inspiring copy and colourful design, the brochure motivated many to have their 'faith lived out' in the community by participating in the seminar and its programmes.
Clown Around The World Festival Collaterals
Designed a vibrant and colourful set of collaterals for this one-week festival featuring international clowns and a training camp.
Safekey, JohnsonDiversey
A picture paints a thousand words and so does a good copy that accompanies it. The creative concept and tagline became JohnsonDiversey's main marketing statement for their food safety programme.
Stonecare Brochure
If stones could speak, we wonder what they would say about the brochure. We'd like to think that their answer is, "you bring out the shine!"
Methodists in the Marketplace
Created the logo for a new ministry. We went for a contemporary look and feel that is vibrant and yet corporate.
AVA
Food safety, animal and plant health and other agri-produce ventures were given a boost with this Agrifood and Technologies four-page marketing brochure cum folder.
TASKI machines
The TASKI brand of JohnsonDiversey can really make a clean sweep with its range of vacuum cleaners, single disk machines, scrubber driers and carpet extractors. It helps when the brochure is able to show the range of machines in an attractive manner.
Changi General Hospital TRaCS
Out of the challenge of creating a collateral that depicts what Trauma Recovery & Corporate Solutions (TRaCS) is about, the idea of recovery was conceived leading to a design that is both consistent and informative.
Grace at Work Marketplace Conference
The inaugural Conference, organised by Wesley Methodist Church, attempts to reach out to Christians who are corporate professionals. The creative concept of the brochure cleverly puts a spotlight on the idea of making a difference in the marketplace.
Tokio Marine
Tokio Marine's Vision, Mission and Values is encapsulated in this colourful visual accordion fold brochure that depicts pictorially the company's ethos.
TASKI Swingo XP
Provided the creative concept and copy for a TASKI brand under JohnsonDiversey and translated its technical information to a more understandable form. Scrubber driers never sounded so cool.
Clean Hands Series
Created a series of captivating floor / wall graphics for a Clean Hands Campaign that was rolled out in hospitals regionally.
PacHealth Wellness Package
Enhanced with a design depicting elements of nature, this brochure invites readers to retreat to a revitalising, refreshing and reviving wellness package offered by our client.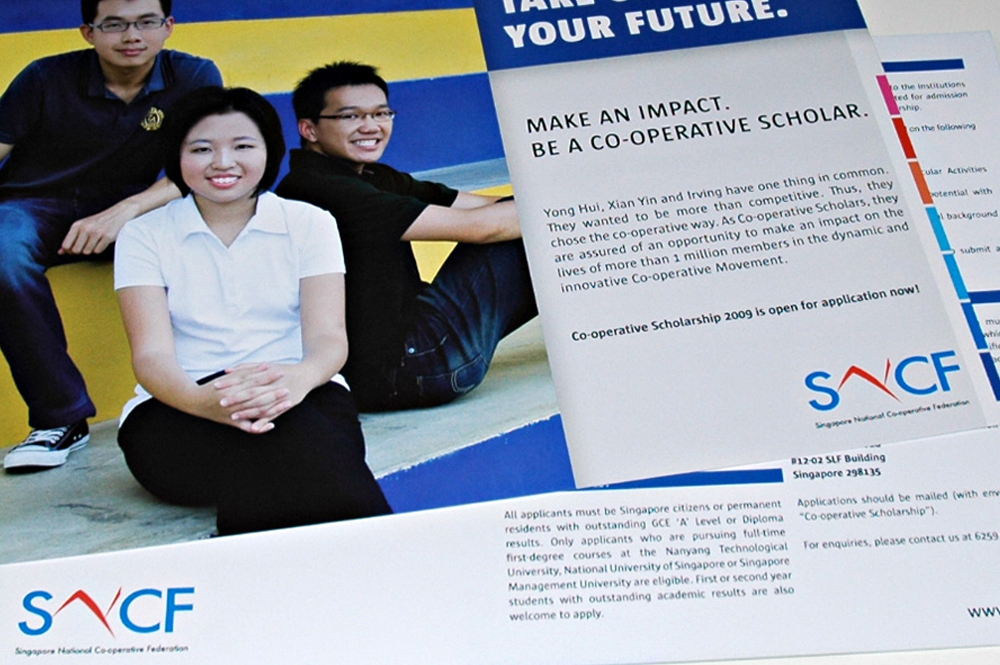 SNCF Scholarship Ad
The concept and copy of the scholarship advertorial for the Singapore National Co-operative Federation (SNCF) encouraged more young aspiring Singaporeans to take charge of their future and shape their career in the Co-operative Movement.
Good Sense
It only makes 'good sense' to have a clever tagline on a stylish ad. This ad was part of a host of other marketing collaterals that was produced for this product's sales kit, distributed to countries in the Asia Pacific.
NTUC Healthcare Shopfront
Commissioned to design a series of shopfront ad murals depicting the myriad of medical and dental services offered by NTUC Healthcare. The murals can be found in Jurong and Bedok.
Trooper
The idea of a Trooper superhero, representing the strong and robust characteristic of the product was a cool and new approach to an ad. Everybody loves a superhero.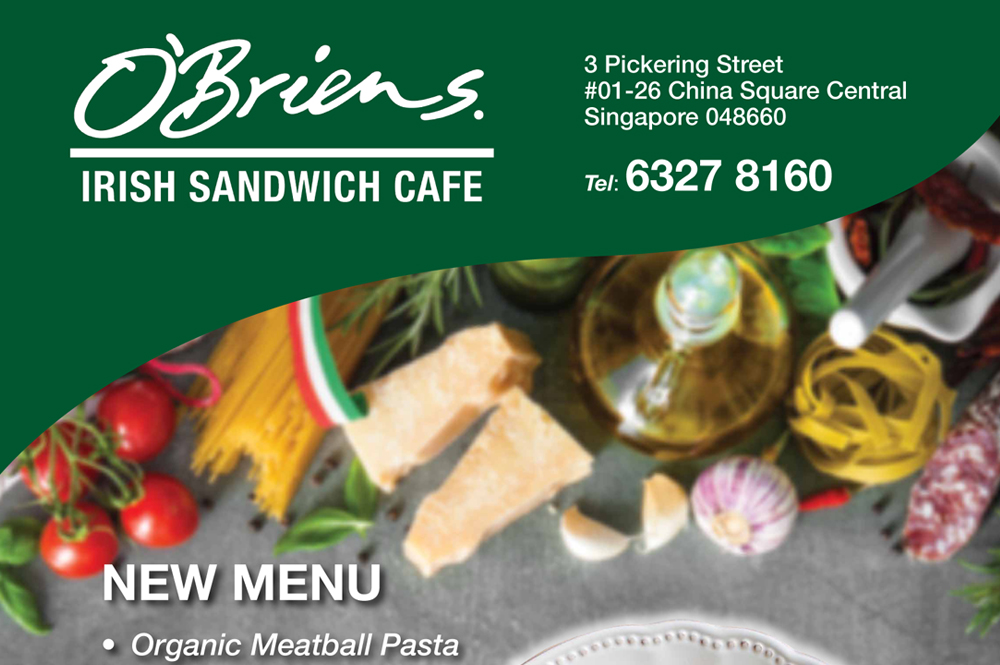 O'Briens
Provided the creative concept and copy for a set of O'Briens promotional posters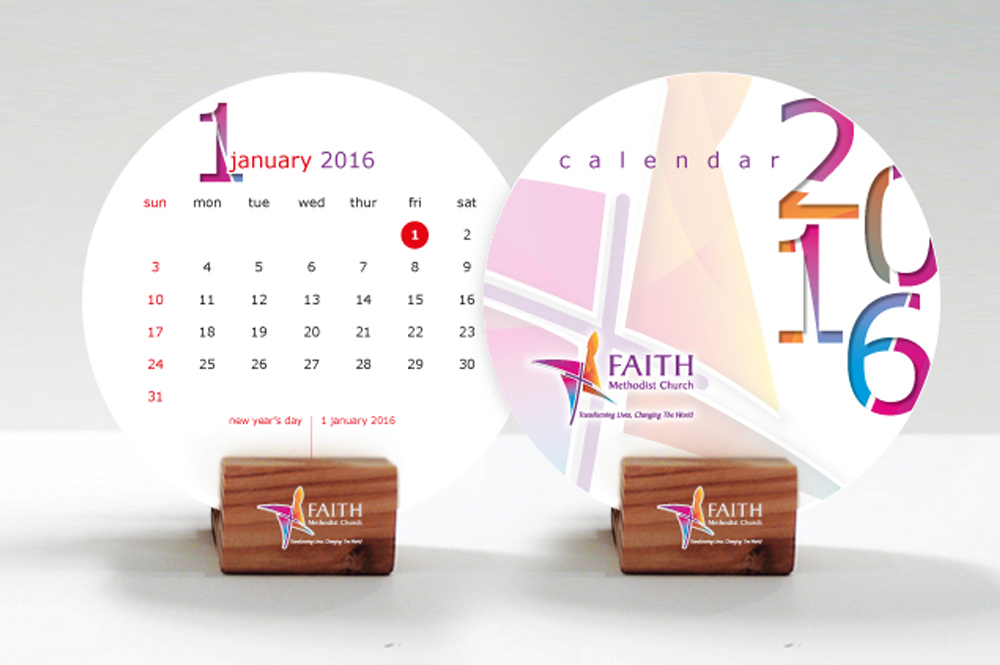 Faith Methodist Church table calendar 2016
A simple but novel idea for the calendar, gave it a unique look, that consists of circular cutouts inserted on a wooden card holder.